The Dance Academy(TDA) founder and director, Melissa Williams, started the dance ministry in 1989 with the name DanceEffects. The Academy joined Family Theatre in 2006. The location and name have changed, but the mission statement is still the same:

"To provide a quality dance education for children with a passion for dance regardless of race, religion, or financial challenges."

TDA is a leveled theater based program with a combination of tap, ballet, and jazz.
This is a year-round program with 12 monthly fees, due on the 1st dance class of the month.

Please call for fees and class information.

---
The Dance Academy Calendar
2018

No Classes on Memorial Day May 28, 2018
Make up classes: Beg/Int Tuesday May 29, 5-6pm
Int/Adv Thursday May 31, 5-7pm

Showcase
"Dance, you'll feel better"

Dress Rehearsal, Friday, June 8th:
5pm: Doors open
5:30pm: Photos begin
6:15pm: Green room meeting and prayer
7pm: Curtain

Performance, Saturday, June 9th:
5pm: Doors open
6:15pm: Green room meeting and prayer
7pm: Showtime!
All costume needs are posted on the blackboard in the waiting room.

Dance Camp
$65.00 for non-members June 25th-28th 7yrs and up
Beg/Int new members 9:30am-12:00pm
Int/Adv and Advanced 12:30-3pm

Summer Intensive
Starts July 10, 2018 4 weeks
Tuesday: Beg/Int 5:00-7:00pm Thursday: Int/Adv 5:00- 7:30pm

2018-2019
Starts August 13, 2018
Monday Beg/Int 5:00-6:15, Int/Adv 6:15-7:45
Tuesday Pointe 5:00-6:00pm, Adults 6:00-7:30pm Thursday Adv 5:00-7:30pm


No Classes on labor Day or Thanksgiving. TDA does not observe Fall break.

Melissa Williams 706.718.0056
Instructor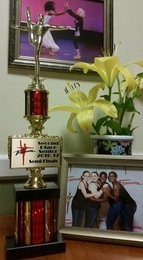 ---
Summer Technique Intensive
Tuesday, through Thursday, August 3, 2017
Beginner/Immediate Class Tuesdays 5-7PM
Advanced Class Thursdays 5-7:30PM
$60 new students

---
---
Call instructor Melissa Williams
706-718-0056 for more information/registration