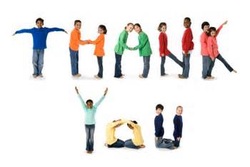 Family Theatre can use donations of items for scenery, props, and costumes.
We have a team of creative people who can turn just about anything into a theatrical masterpiece.

Check your closets and storage rooms for these items:
-Paint: cans(no oil based) or spray
-Vintage clothing or theatrical looking costume pieces and
accessories/eye glasses
-Large pieces or bolts of cloth
-tools & paint brushes


*A volunteer is needed to keep and organize the history of Family Theatre. We would like for someone to archive the programs, posters, and news articles for each production.


*Family Theatre would love to have a volunteer to coordinate the display cases in the Café. If you are creative we would love for you to help us promote upcoming shows by decorating these displays.

*With the many productions and events of a live theatre, there are many props stored in our prop rooms. These props tend to make their way to every nook and corner of the facility. If you would be interested in collecting and organizing our props you would truly be an asset to Family Theatre.

​*The café display cases have been used for years, serving
hundreds of customers. They are in need of a good cleaning.
​ Possibly sanding and staining or painting.

---